The NOAA Office of General Counsel "of the Year" Awards – 2006
The NOAA General Counsel's office recently recognized five individuals for their outstanding achievements and contributions to the agency throughout the year. The individuals recognized at the awards ceremony in Washington, D.C., in March, 2007, are listed below.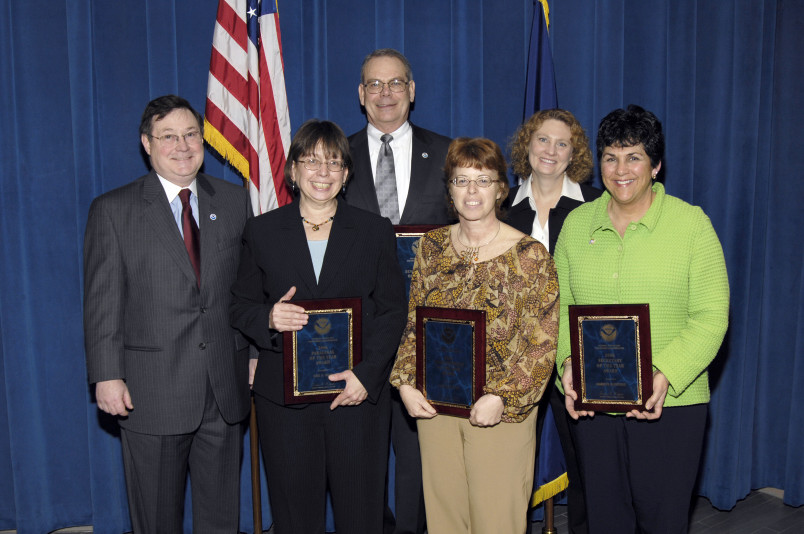 From left to right: James Walpole (NOAA General Counsel), 
Gail Siani, James H. Lecky, Marjorie Sams, Molly Holt,
Marilyn Eldridge. Not shown: Michael McLemore
Manager of the Year - Michael McLemore, GCSE
Mike McLemore exhibited strong leadership, sound judgment, and the highest level of professionalism in leading his office to provide consistently excellent legal analysis and advice to NOAA Fisheries Service Southeast Region despite reduced staff, the urgent demands of rapidly expanding litigation, and some highly controversial fishery management actions. With his office at only 75% of full attorney strength, under his leadership the office provided strong legal support for three fishery management councils, provided critical assistance to NOAA Fisheries Service in putting into place a complex new individual fishing quota system of great importance to the Administration, and provided superior legal analysis and advice to support the Region and the NOAA Administrator in connection with the very controversial measures to rebuild the red snapper fishery.
---
Attorney of the Year - Molly Holt, GCOS
Over the course of the past two- and one-half years, Molly Holt played a key role in developing an Olympic Coast Intergovernmental Policy Council Memorandum of Agreement. This Agreement establishes an intergovernmental structure that allows four Indian tribes and the State of Washington to work together with the Olympic Coast National Marine Sanctuary on marine resource management issues of interest to each sovereign. Relying upon her expertise in Indian law and past relationships with tribal partners, Molly led many of the intergovernmental negotiations that developed the conceptual framework and terms of the Agreement. She also served as the principal author of the Agreement. In addition to this major success, Molly has continued to work with NOS's Office of Ocean and Coastal Resource Management in reviewing major amendments that have been proposed to the State of Washington's Coastal Management Program and helped the National Marine Sanctuary Program draft necessary mitigation measures associated with a proposed wave energy project that would be located in the Olympic Coast National Marine Sanctuary.
---
Administrator of the Year - Marjorie Sams, GCNR/SS
Marjorie Sams provided outstanding work as Property Custodian for GCNR's Silver Spring Office and the GCF and GCW offices. In this role, she had to answer to a Property Accountability Officer outside of her usual supervisory chain. She assisted the PAO in devising a property tracking plan that could be used as a model for other offices. Ms. Sams also provided excellent assistance with the Damage Assessment, Remediation, and Restoration Program case work. She maintained and organized the electronic files for hundreds of documents relating to the Program's activities regarding the impacts of Hurricane Katrina. She set up and maintained the administrative record for the Delaware River Athos oil spill of November 2004. Ms. Sams has demonstrated outstanding knowledge and expertise in property accountability and has made significant contributions to the administration of the Damage Assessment Remediation and Restoration Program. Finally, she also organized and indexed the files for NOAA's Mini-312 Program and ensured proper disposition of case files and property of a departing attorney.
---
Paralegal of the Year - Gail Siani, GCNR/NW
Gail Siani provided outstanding work in improving the NOAA Office of General Counsel's web site and in assisting other NOAA GC offices in improving and expanding their use of web-based materials for communicating with staff, interested parties and the public. Largely through self-study, she learned the programming skills needed for web site creation and maintenance. She developed and maintained an extensive web-based library of settlement agreements, restoration plans and related documents as an invaluable resource and reference for GCNR attorneys and interested parties. She also developed and maintained a series of web sites for natural resource damage cases that has greatly contributed to case management and outreach.
---
Secretary of the Year - Marilyn Eldridge, GCNE
Marilyn Eldridge provided exemplary performance as an administrative assistant in the GCNE office. In addition to demonstrating the highest standards of performance and devotion to duty she also exhibited creativity in developing new systems to aid attorneys with monthly reporting requirements and to track budget expenditures and projections with great accuracy and timeliness. Marilyn's work ethic is outstanding. As an example, working under an incredibly tight 48-hour time frame, she assisted in sorting, copying and indexing 150 boxes of documents that had been seized from the Gloucester Seafood Display Auction by Special Agents of the National Marine Fisheries Service. Marilyn's commitment to excellence contributes significantly to the overall efficiency of the GCNE office.
---
Senior Leader of the Year - James H. Lecky, Director, NOAA Fisheries, Office of Protected Resources
Jim Lecky is being recognized for his national leadership as Director of the NOAA Fisheries Office of Protected Resources fulfilling NOAA's responsibilities under the Endangered Species and Marine Mammal Protection Acts. He successfully addressed numerous challenging issues in 2006, including the Navy's Rim of the Pacific training exercises involving use of sonar; inclusion of federal forest lands in the designation of salmon critical habitat; development of an enforcement policy involving West Coast pinniped populations; and settlement of litigation pending for almost 20 years regarding operation of the Friant Dam in California. Throughout these efforts, he never failed to ensure the legal sufficiency of his actions through close and effective collaboration with the Office of the General Counsel.