The NOAA Office of General Counsel Awards – 2006
The Department of Commerce General Counsel's office recently recognized eight individuals for their outstanding achievements and contributions to the agency. The individuals recognized at the awards ceremony in Washington, D.C., in December, 2006, are listed below.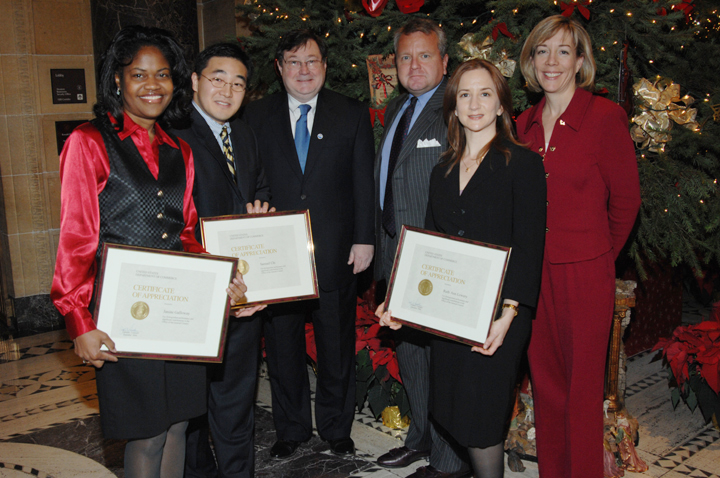 From left to right: Janine Galloway, Samuel Chi, James Walpole (NOAA General Counsel),
John Sullivan, Ruth Ann Lowery, and Mary Beth Ward (Deputy General Counsel).
Not shown: Christopher Fontecchio, Ruth Ann Lowery, Trudi Wiley, Dan Hytrek, Julia Caracoza, Robert Taylor
The Klamath Hearing Team. Julia Caracoza, Samuel Chi, Chris Fontecchio, Janine Galloway, Dan Hytrek, Ruth Ann Lowery, Trudi Wiley
This year NOAA General Counsel staff represented the agency at the first ever trial-type administrative hearing challenging a fishway prescription under the Energy Policy Act of 2005 (EPAct). The Klamath Hearing Team handled the first of these proceedings to reach a hearing, which addressed fishway prescriptions for a multi-dam project on the Klamath River in Northern California and Southern Oregon. Through more than a thousand hours of effort by all members of the Klamath Hearing Team, NOAA reached a favorable settlement on some issues and took the majority of the issues to a five-day hearing. The Administrative Law Judge (ALJ) decision ensures that the Agencies retain full discretion to continue to develop a plan for reintroduction of anadromous fish to its historic habitat. The decision also will provide important guidance for the development of other fish prescriptions and the conduct of subsequent trial-type hearings. The Klamath Hearing Team substantially advanced the Department's strategic goal to observe, protect and manage the Earth's resources and was highly praised within NOAA and at counterpart agencies.
Robert A. Taylor
Mr. Taylor provided outstanding work in developing a new approach to resolving natural resource damage liability at complex, multi-party waste sites. Mr. Taylor is NOAA's case attorney, case team leader and lead negotiator for a major natural resource damage assessment at the Commencement Bay, Washington Superfund site. To settle NRD claims on the Hylebos Waterway, the site's longest and most polluted waterway, Mr. Taylor developed an innovative settlement strategy involving a restoration-based approach, independent liability allocation, a public review and comment process, and restoration credits trading. This project was the first nationally to include a formal liability allocation, and, more importantly, the first to employ restoration credits trading. This innovation is being avidly discussed by interested parties and featured at seminars and conferences nationally. It is being touted as the new paradigm for resolving large complex NRD cases, and has spurred several parties to attempt to develop business lines based upon creating opportunities for restoration credits trading. Mr. Taylor's accomplishments have contributed significantly to advancing the Department's mission of promoting innovation, entrepreneurship and stewardship.