R.M.S Titanic - Salvage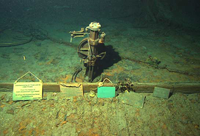 Photo 53: A steering mechanism that held the ship's wheel.
(NOAA Photo Library)
The primary purpose of the maritime law of salvage is to prevent looting of recent marine casualties. After the R.M.S. Titanic sank on April 15, 1912, there was some immediate salvage of objects that floated on the surface (flotsam) and some that was jettisoned and recovered on shore (jetsam). However, because most of the wreck sank in water over 12,000 feet deep, the technology of the times made salvage of the ship itself impossible. It was not until 1985 when Titanic was discovered approximately 350 nautical miles (nm) off the coast of Newfoundland, Canada that modern technologies made possible actual salvage of artifacts from the wreck site.
Titanic Ventures, Inc., a United States company, with assistance from the French Institute IFREMER (co-discoverer of the wreck), salvaged approximately 1,800 artifacts in 1987 and obtained title to them, subject to certain conditions, in a salvage award from a French Administrative Tribunal. The conditions included a requirement that the artifacts not be sold individually but rather be kept together as a single collection for the public benefit. In June 1994, Titanic Ventures obtained exclusive salvage rights to Titanic from the U.S. District Court for the Eastern District of Virginia. The Court has since held that Titanic Ventures, now known as RMS Titanic, Inc. ("RMST"), continues to have the right to salvage the wreck but does not own it or any artifacts recovered from the wreck site. The Court also prohibited, without its authorization, any piercing or penetration of the wreck's hull.
On August 15, 2011, the Chief Judge of the U.S. District Court for the Eastern District of Virginia signed an Order granting RMST title to the artifacts recovered in the 1993, 1994, 1996, 1998, 2000 and 2004 salvage expeditions subject to certain specified conditions. The covenants and conditions were initially proposed by RMST, negotiated with the National Oceanic and Atmospheric Administration (NOAA) and the United States Department of State through the United States Department of Justice, and then finalized by the Court. The covenants and conditions ensure that the collection of artifacts recovered from Titanic will be conserved and curated consistent with current international and U.S. historic preservation standards. Under the Order, NOAA represents the public interest in Titanic and has authority to enforce the covenants and conditions through the United States Department of Justice in court proceedings.
Additional reference information: