R.M.S Titanic - History and Significance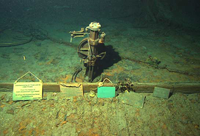 Photo 53: A steering mechanism that held the ship's wheel.
(NOAA Photo Library)
History, Culture and Iconic Interests in the United States and Abroad

The R.M.S. Titanic is perhaps the most famous shipwreck in our current popular culture. Titanic was a British-registered ship in the White Star line that was owned by a U.S. company in which famed American financier John Pierpont "JP" Morgan was a major stockholder. Titanic was built in Belfast, Northern Ireland by Harland & Wolff for transatlantic passage between Southampton, England and New York City. It was the largest and most luxurious passenger ship of its time and was reported to be unsinkable. Titanic, launched on May 31, 1911, and set sail on its maiden voyage from Southampton on April 10, 1912, with 2,240 passengers and crew on board. On April 15, 1912, after striking an iceberg, Titanic broke apart and sank to the bottom of the ocean, taking with it the lives of more than 1,500 passengers and crew.

While there has been some salvage outside of the major hull portions, most of the ship remains in its final resting place, 12,000 feet below sea level and over 350 nautical miles off the coast of Newfoundland, Canada. Its famous story of disaster and human drama has been, and continues to be, recounted in numerous books, articles and movies. Titanic has been recognized by the United States Congress for its national and international significance and in many ways has become a cultural icon. The disaster also resulted in a number of memorials around the world. In the United States, there are major memorials in Washington D.C. and New York; the Widener Library at Harvard University is another major memorial commemorating Henry Elkins Widener, a victim of the sinking.

Investigation and the Development of Measures for Safety in Navigation

The sinking of Titanic was one of the deadliest peacetime maritime disasters in history and quickly became a catalyst for change. The United States Congress held hearings on the casualty that resulted in a report and measures to improve safety of navigation. Similar investigations were held in the United Kingdom. The international community readily came together for the purpose of establishing global maritime standards and regulations to promote safety of navigation, the most important of which was the Convention for the Safety of Life at Sea (SOLAS), widely regarded as the most important of all international agreements on the safety of merchant ships.

Radio acoustic ranging navigation, developed by the U.S. Coast and Geodetic Survey (USCGS, a NOAA predecessor agency) in 1924, had its roots in the sinking of the Titanic. The transmission and reception of sound waves led to the invention of sonar. USCGS and hydrographic offices around the world grasped the power of sonar as an underwater search tool, and also as a way to measure the depths of the ocean. Today, accurate and precise nautical charts are produced with the data acquired from survey vessels equipped with echo-sounding technology.

Discovery of the Titanic Wreck Site by a Team of Explorers from the United States and France

The wreck of Titanic was discovered on September 1, 1985, by a joint American-French expedition led by Dr. Robert Ballard of the Woods Hole Oceanographic Institution and Jean-Louis Michel of the French Research Institute for Exploration of the Sea (IFREMER). The wreck was found approximately 350 nautical miles (nm) off the Canadian coast of Newfoundland in international waters two and a half miles below the ocean surface (depth of 12,500 feet or 3,800 meters). Shortly after the discovery, Dr. Ballard testified before the United States Congress to encourage the enactment of legislation to designate the wreck as a maritime memorial. In July 1986, a plaque was placed on R.M.S. Titanic recording its discovery the previous year and calling for the wreck to be left undisturbed in memory of those who perished aboard her. In 1987, a United States company working with IFREMER returned to the wreck and began to salvage in artifacts from the artifact field. For more information on salvage, please visit our related Salvage page.

United States Congress Acts to Protect Titanic Through International Cooperation

Recognizing the shipwreck as a site of great historical and cultural significance, Congress passed the R.M.S. Titanic Maritime Memorial Act of 1986 (1986 Act), directing the United States to (1) begin negotiation of an international agreement to initiate multinational conservation efforts; and (2) develop guidelines for exploration, research and salvage. It also calls for the recognition of the site as an international maritime memorial on behalf of those who lost their lives in the tragic sinking.

National and International Significance of the R.M.S. Titanic

The R.M.S. Titanic shipwreck holds exceptional national and international significance. It is one of the greatest jewels of world maritime heritage.

National Significance

As a British-registered, American-owned ship, Titanic represents a tangible link to United States maritime history. The ship was owned and operated by the British White Star Line, a subsidiary of the American-owned International Mercantile Marine Co. of New Jersey of which industrial tycoon J.P. Morgan was the majority shareholder. Discovered in 1985 by American oceanographer Robert Ballard and a team from Woods Hole Oceanographic Institution and their foreign partners, the Titanic remains closely connected to the academic fields of U.S. maritime history and marine science. As of its 100th birthday on May 31, 2010, Titanic is an "archaeological resource site" as defined within the Archaeological Resources Protection Act. Artifacts and data discovered at the wreck site continue to advance scientific understanding on the process of underwater archaeological preservation and bio-deterioration.

Titanic has inspired the creative genius of lawmakers, historians, filmmakers and ocean enthusiasts around the world. It has provided a storyline for countless books, articles, films and documentaries, including the Academy Award winning James Cameron megahit Titanic. These stand as testaments to the exceptional significance that the shipwreck as assumed in pop culture, as well as American history. However, the significance of the ship's status as a cultural icon is surpassed by its historical significance as the ultimate memorial in honor of those lives that were lost in its sinking. Of the 306 American passengers on board Titanic, 119 were never rescued. The surviving passengers, many of whom lost family and friends in the disaster, returned to the United States. In 2006, at age 99, Lillian Asplund, the last living American survivor of the Titanic, died in Massachusetts. At age five, she lost her father and three brothers (including her twin brother, five-year-old Carl) on the Titanic. Other passengers onboard Titanic were foreign-born immigrants traveling to the United States. A poignant and powerful artifact recovered from the wreck site was a declaration of intent to become a United States citizen filled out by a passenger who did not survive the sinking but whose well-preserved luggage was recovered. This artifact is a reminder that most of these individuals did not survive, and with them died their American dream. Today, the tragedy of the R.M.S. Titanic represents the hardship and struggle faced by many immigrants during this time period as they set off across the Atlantic Ocean in hopes for a better life and a brighter future for themselves and their families. Their lives tell the story of the millions of Americans who today are the living legacy of immigrants who made the same trans-Atlantic voyage intended by the R.M.S. Titanic. The story of the Titanic is the story of America.

International Significance

Much of the current international law relating to maritime shipping and safety developed as a result of the R.M.S. Titanic tragedy. In the immediate aftermath of its sinking on April 14-15, 1912, the Titanic sparked a lawmaking frenzy resonating throughout the international community. From this fervor emerged the adoption of the first International Convention for the Safety of Life at Sea (SOLAS) in 1914. SOLAS has been amended several times and is still the most important treaty addressing maritime safety. The establishment of the international organization to address maritime safety, the International Maritime Organization (IMO) may be traced to SOLAS and Titanic.  On Sept. 27, 2012, in celebrating its 35th World Maritime Day, the IMO also recalled the 100th anniversary of the disastrous sinking of Titanic that was a catalyst for it establishment.   

Additional reference information:

Last Updated July 10, 2018