Seabirds: Domestic Seabird Bycatch Mitigation Efforts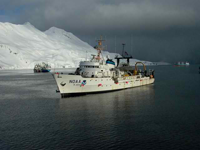 Photo 63: NOAA R/V Miller Freeman. 
(NOAA Photo Library.)

NOAA protects seabirds domestically largely through its regulation of the Alaska fisheries. Under the authority of the Magnuson-Stevens Fishery Conservation and Management Act and Executive Order 13186, NOAA issues regulations to establish seabird bycatch mitigation measures in domestic longline fisheries. NOAA also has a responsibility under the a Section 7 consultation provision of the Endangered Species Act to implement measures to prevent the bycatch of the endangered short-tailed albatross.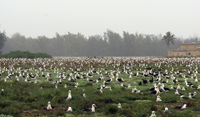 Photo 64: Laysan albatross at Midway Atoll. (NOAA Photo Library.)

Additionally, NOAA has taken the lead in encouraging the international community to adopt seabird bycatch mitigation measures through its role in promulgating the National Plan of Action to Prevent the Incidental Bycatch of Seabirds in Longline Fisheries (NPOA-Seabirds). The adoption of NPOA-Seabirds "fulfills a national responsibility to address seabird bycatch in longline fisheries, as requested" in the United Nations Food and Agriculture Organization's International Plan of Action to Prevent the Bycatch of Seabirds in Longline Fisheries (IPOA-Seabirds). NOAA participates in many international bycatch mitigation events and in efforts pertaining to the Agreement on the Conservation of Albatrosses and Petrels (ACAP).

Related News
NOAA amended the regulations for three national marine sanctuaries with a final rule that establishes a minimum altitude for motorized aircrafts above the sanctuaries to mitigate disturbance of seabirds and marine mammals. (Jan. 26, 2012)
The U.S. Fish and Wildlife Service (USFWS) issued a proposal to regulate the killing of seabirds by vessels in the Hawaiian swordfish fishery. This action marks the first time the Migratory Bird Treaty Act (MBTA) has been invoked to protect seabirds in federal waters. The USFWS released its draft Environmental Assessment (EA). (Jan. 11, 2012)
U.S. Fish and Wildlife Service News Release, "Short-Tailed Albatross Chick Hatches at Midway Atoll National Wildlife Refuge." This is the first confirmed hatching of a short-tailed albatross outside of the islands surrounding Japan in recorded history. The Refuge is part of the Papahanaumokuakea Marine National Monument. (Jan. 14, 2011)
U.S. Fish and Wildlife Service News Release, "Second Short-Tailed Albatross Hatches at Midway Atoll National Wildlife Refuge – Chick increases hope for continued recovery of the species."(Jan. 18, 2012)
Another announces another short-tailed albatross hatched at Midway Atoll National Wildlife Refuge – the third recorded short-tail albatross hatching in any place other than two small islands near Japan. (Jan. 9, 2014)
Additional reference information: