Seabirds: Agreement on the Conservation of Albatrosses and Petrels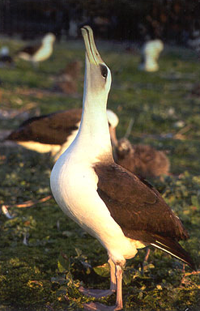 Photo 66: Laysan albatross "sky-pointing". 
(NOAA Photo Library.)

On January 16, 2009, the Department of Commerce and the Department of the Interior jointly forwarded to Congress proposed legislation to implement the Agreement on the Conservation of Albatrosses and Petrels (ACAP). The legislation, entitled the "Albatross and Petrel Conservation Act of 2009," follows up on the September 26, 2008 transmittal by President George W. Bush of ACAP to the Senate recommending that it give early and favorable consideration to the Agreement and give its advice and consent to U.S. accession. ACAP is a multilateral agreement with an objective to achieve and maintain a favorable conservation status for albatrosses and petrels through improved conservation measures, research and information exchange, and increased awareness of conservation issues, including the susceptibility of these birds to a range of threats at sea and on land.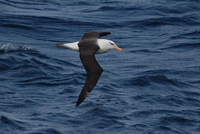 Photo 67: Black-browed albatross. 
(NOAA Photo Library.)

The Agreement, which entered into force in 2004, was negotiated under the framework of the Convention on Migratory Species and currently has 13 Parties. The U.S. participated actively in the negotiation of ACAP due to its interest in seabird conservation in general and its status as a "Range State" of several of the listed species, and continues to participate as an observer in ACAP meetings. In October 2007, President Bush directed Federal agencies to increase U.S. involvement in ACAP, setting in motion the Administration's efforts to join the Agreement. The International Section of NOAA»s Office of General Counsel played a key role in these efforts, including the development of the treaty transmittal package and preparation of proposed implementing legislation
Related News Articles
(May 7, 2012) Indian Ocean Tuna Commission's Scientific Committee adopts best practice seabird mitigation measures proposed by ACAP. The final report is also available.
(Jan. 14, 2011) U.S. Fish and Wildlife Service News Release, "Short-Tailed Albatross Chick Hatches at Midway Atoll National Wildlife Refuge." This is the first confirmed hatching of a short-tailed albatross outside of the islands surrounding Japan in recorded history. The Refuge is part of the Papahanaumokuakea Marine National Monument.
(Jan. 18, 2012) U.S. Fish and Wildlife Service News Release, "Second Short-Tailed Albatross Hatches at Midway Atoll National Wildlife Refuge – Chick increases hope for continued recovery of the species."
4. (Jan. 9, 2014) Another FWS News Release announces another short-tailed albatross hatched at Midway Atoll National Wildlife Refuge – only the third recorded short-tail albatross hatching in any place other than two small islands near Japan.
Additional reference information: