Ballast Water - International Efforts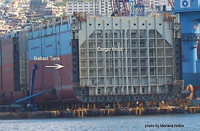 Photo 85: Cross-section of container ship.
(Photo courtesy of Marine Invasions Research Lab, Smithsonian Environmental Research Center)

Recognizing the need to prevent the transfer of aquatic nuisance species through ballast water, 74 member states of the International Maritime Organization (IMO) adopted the International Convention for the Control and Management of Ships' Ballast Water and Sediments Ballast Water Management Convention by consensus on February 13, 2004. To become effective, the Ballast Water Management Convention requires ratification by 30 States representing at least 35 percent of the world's merchant shipping tonnage. As of January 3, 2012, 33 States representing 26.46 percent of the world's merchant shipping tonnage have ratified the Convention. The United States is not among them.
The Ballast Water Management Convention establishes global rules and standards for preventing and/or reducing the spread of harmful aquatic organisms carried by ships' water from one region to another. The Convention's provisions require the exchange of ballast water at sea, regular removal of sediment from ballast tanks, and discharge standards for treatment methods of ballast water and sediment. Parties to the Convention may adopt more stringent domestic measures than those set out in the Convention.
The Ballast Water Management Convention refers to guidelines to be developed and adopted by IMO member states before the Convention enters into force with a view towards facilitating global and uniform implementation of the Convention. The IMO Marine Environment Protection Committee (MEPC) developed fourteen sets of Guidelines, the last one adopted by resolution in October of 2008. The Guidelines are kept under review by the MEPC and updated as new technologies emerge and additional knowledge becomes available.
Additional Information on the Ballast Water Management Convention and Other Related International Law