Jane Chalmers
NOAA General Counsel
JANE CHALMERS SERVED AS THE ACTING GENERAL COUNSEL
from January 21, 2009 to January 30, 2010
Jane Chalmers is the Acting General Counsel of the National Oceanic and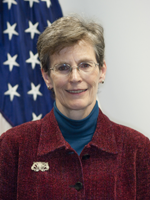 Atmospheric Administration. She serves as the chief legal officer for all NOAA activities and as a policy advisor to the Under Secretary of Commerce for Oceans and Atmosphere. As Acting General Counsel, Ms.Chalmers provides overall management and leadership to more than 100 attorneys. Legal issues at NOAA include those relating to coastal zone management; operation of weather and environmental satellites; management of the nation's marine fisheries; protection of marine mammals and threatened and endangered species; mitigation and restoration of natural resource damages; monitoring oceanic, atmospheric, and climatic data; and mapping and charting U.S. waters.
Following law school, Ms. Chalmers served as a judicial law clerk in Federal District Court in Detroit, and then spent four years practicing with the Washington law firm of Covington and Burling focusing on telecommunications and antitrust law. In 1981 she joined the Overseas Private Investment Corporation (OPIC), a federal agency that promotes U.S. investment in the developing world by offering political risk insurance and financing for projects that support the U.S. and local economies. In 1986 she became Deputy General Counsel of OPIC, and served in that capacity until 2001. At OPIC she oversaw, among other things, implementation of new legislation imposing strict environmental and labor standards on the projects supported by the agency. In 2002 she was appointed Deputy General Counsel for NOAA. As Deputy General Counsel she is responsible for overseeing all legal services supporting NOAA's management of U.S. marine fisheries, and leads NOAA's international law office in ensuring NOAA compliance with U.S. international obligations in its marine activities.
Ms. Chalmers is a graduate of Harvard University and the University of Michigan Law School. She is a member of the District of Columbia and Michigan Bars and is admitted to practice before several federal district and appellate courts, as well as the U.S. Supreme Court.