R.M.S Titanic - Guidelines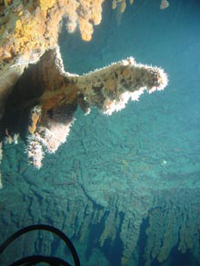 Photo 52: Rusticle hanging from the stern.
(NOAA Photo Library).
As proposed by the R.M.S. Titanic Maritime Memorial Act of 1986, (1986 Act), NOAA developed Guidelines in consultation with the United Kingdom, France, Canada, and other interested countries for activities directed at R.M.S. Titanic. These guidelines set standards for research, exploration and salvage activities at the wreck site. They are based on the most widely accepted principles in archeology, including the International Council of Monuments and Sites (ICOMOS) International Charter on the Protection and Management of Underwater Cultural Heritage, as well as the United States Department of the Interior's Standards and Guidelines for Archeology and Historic Preservation. The NOAA Guidelines and Annex to the Agreement are similar to the Rules annexed to the United Nations Educational, Scientific and Cultural Organization (UNESCO) Convention on the Protection of the Underwater Cultural Heritage of 2001.
Additional reference information: